LIST OF COVID-19 HOSPITAL IN INDIA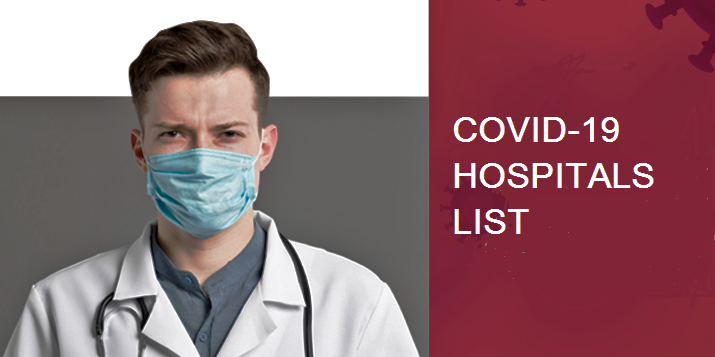 In INDIA All Most all state are covered on COVID-19 disease. Coronavirus are spread person to person. that's reason the COVID-19 case are increase day by day in all country. below is the details of state wise and total case in INDIA COVID-19.
Corona Report on 14 April 2021
Total Cases 1,38,73,825
Active Case 13,65,704
Total Recovered 1,23,36,036
Total Deaths 1,72,085
TOTAL SAMPLES TESTED UP TO 13-April-2021 26,06,18,866
SAMPLES TESTED ON 13-April-2021 14,11,758
Vaccinated 13-April-2021 26,46,528
Total Vaccinated 11,11,79,578
Corona Report on 13 April 2021
Total Cases 1,36,89,453
Active Case 12,64,698
Total Recovered 1,22,53,697
Total Deaths 1,71,058
TOTAL SAMPLES TESTED UP TO 12-April-2021 25,92,07,108
SAMPLES TESTED ON 12-April-2021 14,00,122
Vaccinated 12-April-2021 40,04,521
Total Vaccinated 10,85,33,085
Corona Report on 12 April 2021
Total Cases 1,35,27,717
Active Case 12,01,009
Total Recovered 1,21,56,529
Total Deaths 1,70,179
TOTAL SAMPLES TESTED UP TO 11-April-2021 25,78,06,986
SAMPLES TESTED ON 11-April-2021 11,80,136
Vaccinated 11-April-2021 29,33,418
Total Vaccinated 10,45,28,565
State Wise Corona virus (COVID-19) Case report.
| State/UTs | Confirmed | Active | Recovered | Deceased | Active Ratio | Discharge Ratio | Death Ratio |
| --- | --- | --- | --- | --- | --- | --- | --- |
| Andaman and Nicobar | 5,209 Case UP 8 | 93 Case UP 4 | 5,054 Case UP 4 | 62 | 1.79% | 97.02% | 1.19% |
| Andhra Pradesh | 9,32,892 Case UP 4,228 | 25,850 Case UP 2,735 | 8,99,721 Case UP 1,483 | 7,321 Case UP 10 | 2.77% | 96.44% | 0.78% |
| Arunachal Pradesh | 16,902 Case UP 14 | 55 Case UP 14 | 16,791 | 56 | 0.33% | 99.34% | 0.33% |
| Assam | 2,21,483 Case UP 590 | 4,271 Case UP 537 | 2,16,093 Case UP 52 | 1,119 Case UP 1 | 1.93% | 97.57% | 0.51% |
| Bihar | 2,90,385 Case UP 4,157 | 20,149 Case UP 3,096 | 2,68,606 Case UP 1,047 | 1,630 Case UP 14 | 6.94% | 92.50% | 0.56% |
| Chandigarh | 31,564 Case UP 397 | 3,370 Case UP 15 | 27,793 Case UP 381 | 401 Case UP 1 | 10.68% | 88.05% | 1.27% |
| Chhattisgarh | 4,71,994 Case UP 15,121 | 1,09,139 Case UP 10,283 | 3,57,668 Case UP 4,682 | 5,187 Case UP 156 | 23.12% | 75.78% | 1.10% |
| Dadra and Nagar Haveli and Daman and Diu | 4,307 Case UP 98 | 578 Case UP 77 | 3,727 Case UP 21 | 2 | 13.42% | 86.53% | 0.05% |
| Delhi | 7,50,156 Case UP 13,468 | 43,510 Case UP 5,415 | 6,95,210 Case UP 7,972 | 11,436 Case UP 81 | 5.80% | 92.68% | 1.52% |
| Goa | 63,342 Case UP 562 | 4,888 Case UP 323 | 57,601 Case UP 236 | 853 Case UP 3 | 7.72% | 90.94% | 1.35% |
| Gujarat | 3,60,206 Case UP 6,690 | 34,555 Case UP 3,875 | 3,20,729 Case UP 2,748 | 4,922 Case UP 67 | 9.59% | 89.04% | 1.37% |
| Haryana | 3,24,544 Case UP 3,845 | 24,207 Case UP 1,720 | 2,97,039 Case UP 2,109 | 3,298 Case UP 16 | 7.46% | 91.53% | 1.02% |
| Himachal Pradesh | 71,394 Case UP 619 | 6,269 Case UP 200 | 63,990 Case UP 408 | 1,135 Case UP 11 | 8.78% | 89.63% | 1.59% |
| Jammu and Kashmir | 1,40,650 Case UP 1,269 | 8,681 Case UP 773 | 1,29,932 Case UP 493 | 2,037 Case UP 3 | 6.17% | 92.38% | 1.45% |
| Jharkhand | 1,44,594 Case UP 2,844 | 17,155 Case UP 1,812 | 1,26,178 Case UP 1,003 | 1,261 Case UP 29 | 11.86% | 87.26% | 0.87% |
| Karnataka | 10,83,647 Case UP 8,778 | 78,636 Case UP 2,632 | 9,92,003 Case UP 6,079 | 13,008 Case UP 67 | 7.26% | 91.54% | 1.20% |
| Kerala | 11,80,397 Case UP 7,515 | 52,450 Case UP 4,536 | 11,23,133 Case UP 2,959 | 4,814 Case UP 20 | 4.44% | 95.15% | 0.41% |
| Ladakh | 11,070 Case UP 165 | 851 Case UP 130 | 10,088 Case UP 35 | 131 | 7.69% | 91.13% | 1.18% |
| Lakshadweep | 833 Case UP 20 | 86 Case UP 11 | 746 Case UP 9 | 1 | 10.32% | 89.56% | 0.12% |
| Madhya Pradesh | 3,53,632 Case UP 8,998 | 43,539 Case UP 4,888 | 3,05,832 Case UP 4,070 | 4,261 Case UP 40 | 12.31% | 86.48% | 1.20% |
| Maharashtra | 35,19,208 Case UP 60,212 | 5,94,585 Case UP 28,307 | 28,66,097 Case UP 31,624 | 58,526 Case UP 281 | 16.90% | 81.44% | 1.66% |
| Manipur | 29,540 Case UP 26 | 118 Case UP 15 | 29,046 Case UP 11 | 376 | 0.40% | 98.33% | 1.27% |
| Meghalaya | 14,387 Case UP 87 | 270 Case UP 77 | 13,966 Case UP 10 | 151 | 1.88% | 97.07% | 1.05% |
| Mizoram | 4,685 Case UP 30 | 204 Case UP 29 | 4,469 Case UP 1 | 12 | 4.35% | 95.39% | 0.26% |
| Nagaland | 12,427 Case UP 11 | 174 Case UP 7 | 12,160 Case UP 4 | 93 | 1.40% | 97.85% | 0.75% |
| Odisha | 3,53,086 Case UP 1,784 | 10,033 Case UP 1,259 | 3,41,123 Case UP 523 | 1,930 Case UP 2 | 2.84% | 96.61% | 0.55% |
| Puducherry | 44,973 Case UP 418 | 2,800 Case UP 206 | 41,477 Case UP 209 | 696 Case UP 3 | 6.23% | 92.23% | 1.55% |
| Punjab | 2,79,203 Case UP 2,980 | 28,184 Case UP 318 | 2,43,410 Case UP 2,612 | 7,609 Case UP 50 | 10.09% | 87.18% | 2.73% |
| Rajasthan | 3,75,092 Case UP 5,528 | 40,690 Case UP 4,249 | 3,31,423 Case UP 1,251 | 2,979 Case UP 28 | 10.85% | 88.36% | 0.79% |
| Sikkim | 6,435 Case UP 25 | 175 Case UP 14 | 6,124 Case UP 11 | 136 | 2.72% | 95.17% | 2.11% |
| Tamil Nadu | 9,47,129 Case UP 6,984 | 49,985 Case UP 3,677 | 8,84,199 Case UP 3,289 | 12,945 Case UP 18 | 5.28% | 93.36% | 1.37% |
| Telengana | 3,34,738 Case UP 2,157 | 25,459 Case UP 1,328 | 3,07,499 Case UP 821 | 1,780 Case UP 8 | 7.61% | 91.86% | 0.53% |
| Tripura | 33,844 Case UP 39 | 312 Case UP 14 | 33,138 Case UP 25 | 394 | 0.92% | 97.91% | 1.16% |
| Uttar Pradesh | 7,23,582 Case UP 17,963 | 95,980 Case UP 14,404 | 6,18,293 Case UP 3,474 | 9,309 Case UP 85 | 13.26% | 85.45% | 1.29% |
| Uttarakhand | 1,12,071 Case UP 1,925 | 9,353 Case UP 1,507 | 1,00,938 Case UP 405 | 1,780 Case UP 13 | 8.35% | 90.07% | 1.59% |
| West Bengal | 6,24,224 Case UP 4,817 | 29,050 Case UP 2,519 | 5,84,740 Case UP 2,278 | 10,434 Case UP 20 | 4.65% | 93.67% | 1.67% |
COVID-19 Statewise Vaccine Report
| State/UTs | Dose1 | Dose2 | Total Vaccination | Total Vaccinated Day Before |
| --- | --- | --- | --- | --- |
| Andaman and Nicobar | 43,0696,497 | 5,832119 | 48,9016,616 | 42,285 |
| Andhra Pradesh | 33,83,7633,296 | 5,34,7661,514 | 39,18,5294,810 | 39,13,719 |
| Arunachal Pradesh | 1,18,8696,211 | 33,0241,438 | 1,51,8937,649 | 1,44,244 |
| Assam | 12,74,78311,327 | 2,75,3307,749 | 15,50,11319,076 | 15,31,037 |
| Bihar | 44,57,75183,002 | 5,92,53712,555 | 50,50,28895,557 | 49,54,731 |
| Chandigarh | 1,06,1383,007 | 20,711901 | 1,26,8493,908 | 1,22,941 |
| Chhattisgarh | 41,22,28788,312 | 4,38,2319,247 | 45,60,51897,559 | 44,62,959 |
| Dadra and Nagar Haveli and Daman and Diu | 66,3681,664 | 9,697290 | 76,0651,954 | 74,111 |
| Delhi | 19,12,08556,569 | 3,92,90112,490 | 23,04,98669,059 | 22,35,927 |
| Goa | 1,58,1993,668 | 34,357800 | 1,92,5564,468 | 1,88,088 |
| Gujarat | 85,02,7991,59,009 | 12,02,50047,424 | 97,05,2992,06,433 | 94,98,866 |
| Haryana | 24,22,5511,14,169 | 2,36,22817,916 | 26,58,7791,32,085 | 25,26,694 |
| Himachal Pradesh | 9,96,91756,734 | 1,14,9503,901 | 11,11,86760,635 | 10,51,232 |
| Jammu and Kashmir | 12,17,86826,620 | 2,02,9313,243 | 14,20,79929,863 | 13,90,936 |
| Jharkhand | 21,97,83670,096 | 3,08,8426,697 | 25,06,67876,793 | 24,29,885 |
| Karnataka | 58,48,20334,032 | 5,98,2745,120 | 64,46,47739,152 | 64,07,325 |
| Kerala | 47,14,4261,42,748 | 5,53,10626,600 | 52,67,5321,69,348 | 50,98,184 |
| Ladakh | 66,540425 | 8,779286 | 75,319711 | 74,608 |
| Lakshadweep | 11,852706 | 2,71969 | 14,571775 | 13,796 |
| Madhya Pradesh | 59,03,1092,97,421 | 6,58,27716,857 | 65,61,3863,14,278 | 62,47,108 |
| Maharashtra | 97,18,0391,97,314 | 10,35,90827,257 | 1,07,53,9472,24,571 | 1,05,29,376 |
| Manipur | 94,1741,657 | 45,804642 | 1,39,9782,299 | 1,37,679 |
| Meghalaya | 1,12,6485,061 | 40,2071,168 | 1,52,8556,229 | 1,46,626 |
| Mizoram | 87,3376,230 | 25,7691,798 | 1,13,1068,028 | 1,05,078 |
| Nagaland | 92,5036,163 | 28,351750 | 1,20,8546,913 | 1,13,941 |
| Odisha | 39,22,14578,302 | 5,22,0969,844 | 44,44,24188,146 | 43,56,095 |
| Puducherry | 1,18,43914,193 | 10,832527 | 1,29,27114,720 | 1,14,551 |
| Punjab | 18,36,44359,447 | 1,66,4944,502 | 20,02,93763,949 | 19,38,988 |
| Rajasthan | 88,86,4961,26,600 | 11,94,43628,751 | 1,00,80,9321,55,351 | 99,25,581 |
| Sikkim | 1,19,1638,988 | 16,498549 | 1,35,6619,537 | 1,26,124 |
| Tamil Nadu | 35,67,4421,16,793 | 4,53,61822,489 | 40,21,0601,39,282 | 38,81,778 |
| Telangana | 20,07,12324,462 | 3,11,1691,701 | 23,18,29226,163 | 22,92,129 |
| Tripura | 7,44,9717,215 | 97,4262,247 | 8,42,3979,462 | 8,32,935 |
| Uttar Pradesh | 83,31,2873,15,197 | 13,88,61245,138 | 97,19,8993,60,335 | 93,59,564 |
| Uttarakhand | 12,05,29334,022 | 1,97,9027,107 | 14,03,19541,129 | 13,62,066 |
| West Bengal | 73,28,56885,729 | 10,17,18533,998 | 83,45,7531,19,727 | 82,26,026 |
| Miscellaneous | 16,04,4305,989 | 11,01,36523,934 | 27,05,79529,923 | 26,75,872 |