National Aptitude Test in Architecture NATA 2020 is conducted by the Council of Architecture (CoA)
Registration date of Second test of NATA 2020 exam date is extended upto 6-Setptember-2020 at 12 noon.
What is NATA? Full Form of NATA
National Aptitude Test in Architecture (NATA) is being conducted by COA since 2006, in terms of the provisions of CoA (Minimum Standards of Architectural Education) Regulations, 1983, published in the Gazette of India. It is implied that a separate aptitude test in Architecture should be conducted and such test should not be combined with the tests for admissions to Engineering, Pharmacy, Medicine and other disciplines.
Who will be Conduct NATA exam
NATA exam is conducted by the Council of Architecture (CoA)
NATA FIRST Test exam date, marks, questions, exam time
NATA SECOND Test exam date, marks, questions, exam time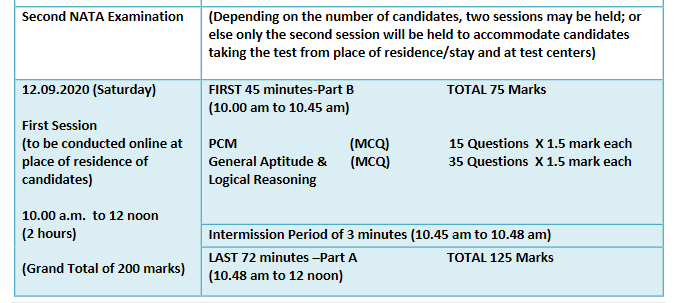 NATA Registration Link
https://nataregistration.in/index.php?p=login
Contact number and email for support
+91 9319275557, +91 7303487773 helpdesk.nata2020@gmail.com