MHA announces guidelines for Unlock4.0 to be in force till September 30 Metro trains allowed to operate with effect from 7th September, 2020 in a graded manner. In Unlock 4, which will come into effect from September 1, 2020
features of Unlock 4.0 guidelines
Metro rail will be allowed to operate with effect from 7th September 2020 in a graded manner,
Social/ academic/ sports/ entertainment/ cultural/ religious/ political functions and other congregations will be permitted with a ceiling of 100 persons, with effect from 21st September 2020.
Open air theaters will be permitted to open with effect from 21st September 2020.
Schools, colleges, educational and coaching institutions will continue to remain closed for students and regular class activity up to 30th September 2020.
Higher Education Institutions only for research scholars (Ph.D.) and post-graduate students of technical and professional programmers requiring laboratory/ experimental works. These will be permitted by the Department of Higher Education (DHE) in consultation with MHA, based on the assessment of the situation, and keeping in view incidence of COVID-19 in the States/ UTs.
Lockdown shall continue to be implemented strictly in the Containment Zones till 30th September, 2020.
Cinema halls, swimming pools, entertainment parks, theatres (excluding open air theatre) and similar places are remain closed
Within the containment zones, strict perimeter control shall be maintained and only essential activities allowed.
These Containment Zones will be notified on the websites of the respective District Collectors and by the States/ UTs and information will also be shared with MOHFW.
States not to impose any local lockdown outside Containment Zones
No restriction on Inter-State and intra-State movement
National Directives for COVID-19 management
Vulnerable persons, i.e., persons above 65 years of age, persons with co-morbidities, pregnant women, and children below the age of 10 years, are advised to stay at home, except for meeting essential requirements and for health purposes.
The use of Aarogya Setu mobile application will continue to be encouraged.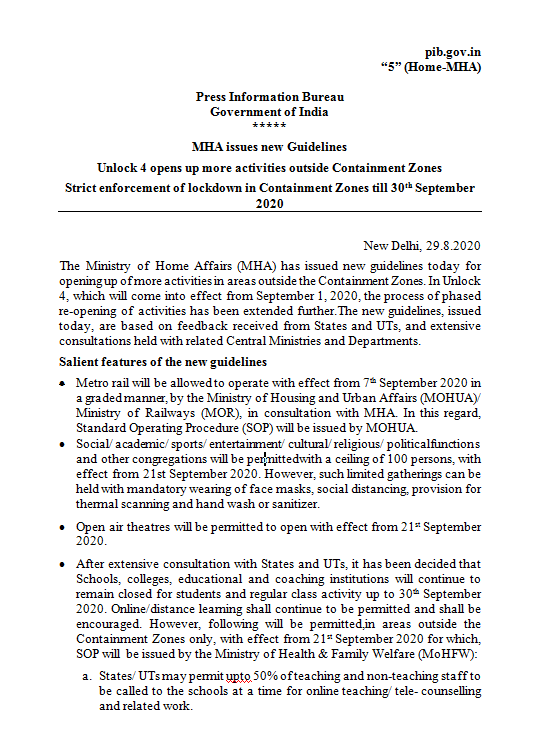 source code url http://164.100.117.97/WriteReadData/userfiles/MHA%20Order%20and%20Guidelines%20for%20Phased%20Re-opening%20(Unlovk%204)%2029.8.2020%20(1).pdf