CBSE Class 10 exam date sheet
Check Source Url https://www.cbse.gov.in/newsite/attach//FINAL-Date%20Sheet%2002.02.2021%20-%20X.pdf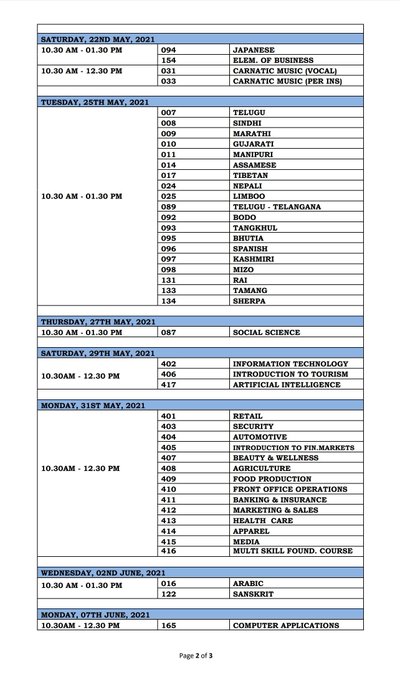 Duration of time for each paper has been indicated in the Date-Sheet.
2.However, duration of time for each subject/paper as given on the question paper be followed meticulously.
3.Answer books would be distributed to candidates between 10.00 AM–10.15 AM.
4.Candidates would write their particulars on the answer book.
5.Particulars shall be checked and signed by Assistant Superintendent(s).
6.Question paper will be distributed at 10.15 AM.
7.From 10.15 AM–10.30 AM(15 minutes), candidates shall read the question paper.
8.Candidates would plan proper strategy to write the answers.
9.At 10.30 AM candidates will start writing the answers.
10.No enquiries about date of declaration of result shall be attended to.
11. For updates, please visit www.cbse.nic.in
CBSE Class 12 exam date sheet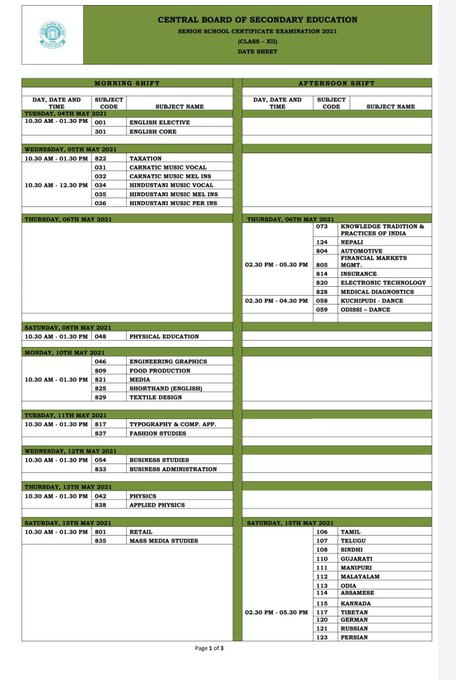 Check source url
https://www.cbse.gov.in/newsite/attach//FINAL%20Date%20Sheet%2002.02.2021%20-%20XII.pdf
Updated on 28,Jan2021 As per Education minister announcement – CBSE exam date sheet of 10th & 12th class to be announced on Feb 2(Tuesday). Computerized affiliation system to be based on data analytics & self-disclosure of schools.
Union Education Minister Dr. Ramesh Pokhriyal Nishank will announce the CBSE 10th & 12th Board Exam 2021 date on December 31, 2020 at 6PM
We will update you, once the CBSE board exam date release.
CBSE board exams to be held from May 4 to June 10, results by July 15, says Education Minister Dr. Ramesh Pokhriyal Nishank
Schools will be allowed to conduct Practical/Project/Internal Assessment of Class 10th & Class 12th from March 1, 2021 to last date of conduct of theory examination of these classes. Date sheet of both Class 10th & 12th will be issued soon: Central Board of Secondary Education