Apply online Income certificate required documents fees and application form details (राशन कार्ड): before apply online new ration card user required some documents. this document is necessary for online apply राशन कार्ड.
Required Document राशन कार्ड New Ration Card connection Uttar Pradesh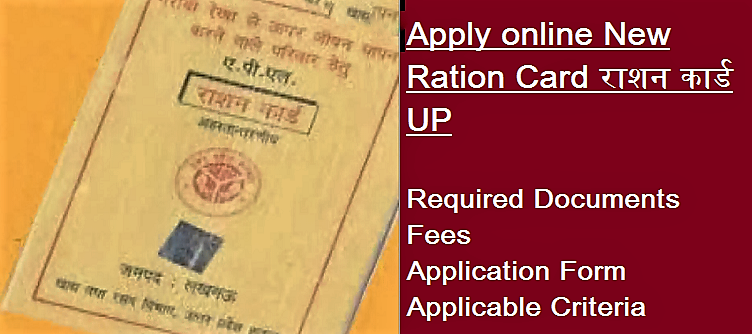 Id Proof
Address Proof
Family Income certificate
राशन कार्ड connection Applicable Criteria
1.Anyone can apply who is resident of Uttar Pradesh
2.Minimum age 18 years
3.Family Income – less than 2 Lacs (for rural) & less than 3 lacs (for urban)
Steps Apply Online राशन कार्ड New Ration Card connection.
Step‐ 1:
a) User open link https://edistrict.up.gov.in/edistrictup/ and click on Citizen login (e-Sathi).
b) Register in online portal using their personal details and contact details.
c) A password is generated and sent through SMS/Email.
d) Using the User id and Password applicant shall log into the online portal.
Step – 2:
After logging into the web portal , the Applicant shall select "E-SATHI INTEGRATED SERVICES" radio button.
Step‐3:
User select "New Ration Card" service under Food &
Civil Supply Department.
Step‐4:
User create profile (Select district & enter DOB, Mobile Number)
Step‐5:
User pay charges i.e., Rs 15/– through online payment gateway.
Step‐6:
User fill details, attach documents in application form for "New Ration Card" & submit it.
Step‐7:
Block Development Officer (B.D.O.) shall verify the application & forward to Supply Inspector (S.I.)
Step‐8:
Supply Inspector (S.I.) shall approve the verification done by B.D.O. & forward the application to D.S.O. for approval
Step‐9:
District Supply Officer (D.S.O.) shall approve the application
Step‐10:
After approval of D.S.O. system generate the soft copy of ration
card.
Step‐11:
Applicant shall download the soft copy of ration card from online portal/Digi-Locker.